Roland Seim, Josef Spiegel (Editors)
"Nur für Erwachsene" ("For Adults Only" - "X Rated") -
Censorship in Rock and Pop Music

Pop and provocation go together like Rock & Roll, even though today's mainstream chart songs rarely display the original potential of irritation from way back when.

That this hasn't always been like this the exhibition and the catalogue book give a proof of. In using record and CD-covers from the last fifty years they present what became an issue of public debate and censorship in a juxtaposition of original vs. censored version. In addition numerous music videos and vintage tracks complete the show.

Elvis, The Beatles, The Rolling Stones,- you name it: from it's origin Rock'n Roll was considered The Stairway to Hell, and censorship was understood as a means to prevent sin, corruption and The Decline of the Occident.

Organized by topics like PC, Sex, and Violence Book, and exhibition show if and how this succeeded. Covering Rock, Beat, Punk, Death Metal all the way to today's Hip Hop Scene the examples given examine the changes in mentalities, values, and limits through the first 50 years of Rock and Pop history.
The four-colour illustrated catalogue contains introductory essays, and a little dictionary on censorship in music.

Exhibtion and catalogue were put together by Dr. Roland Seim, Dr. Josef Spiegel, and Heinz Kock in collaboration with students of the Musicological Institute at Hamburg University who contributed several articles.

The project is being supported by the state's cultural administration, by the Schöppingen Artists Village Foundation, the Rock&Pop Museum Gronau, and Münster's bookstore "Medium Buchmarkt".

You can get the exhibition any time under reasonable financial conditions, it was a great sucess in Germany, who might be interested should contact Telos Verlag.


Roland Seim, Josef Spiegel (Hrsg.) "Nur für Erwachsene" - Rock- und Popmusik: zensiert, diskutiert, unterschlagen; Münster 2004, 246 p., paperback., four-colour cover, and appr. 250 full-colour illustrations, size 24x19 cm, weight 660 g, ISBN 3-933060-16-8 (ISBN-13: 978-3-933060-16-7), O-price: EUR 24.80, price reduction after 15.4.2007
(EUR 12.40 = US-$ 16.00 incl. handling and shipping postage).
We give you a 30% library discount or send you a free copy for a book review.

More informations about the editor

Further informations in English on other books of Roland Seim
An english book review (at freemuse.org)
Back to the German website of this book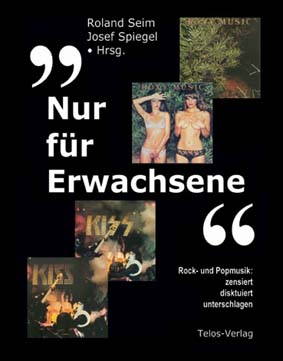 This title will be presented at the
Taipei International Book Exhibition 2006
For more (German) online-reviews
please visit our Links
Link to an English text
of Seim on censorship, written for the "Journal of Mundane Behavior",
Fullerton-University/USA
Click here to find recent cases in Germany
And here some examples of music censorship in the USA (Peter Blecha)